Profile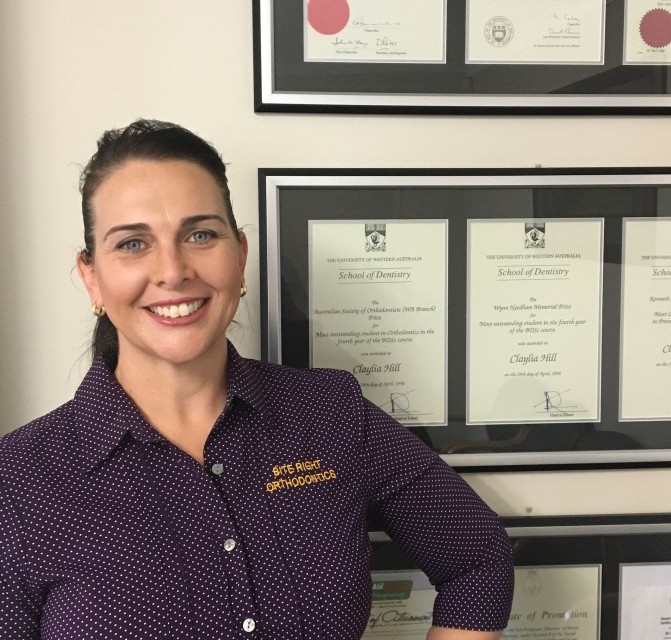 Dr Claylia Ward was educated at Marryatville High School in Adelaide and Mt Lawley Senior High in Perth. She was admitted into the Bachelor of Dental Science at the University of Western Australia and graduated with Honours as the top dental student in 1996, winning the Wynn Needham Memorial Prize. Her achievements include:
Winner of the 1994 Kenneth J.G. Sutherland Prize for Most Outstanding Student in Preventive Dentistry
Winner of the 1996 Wynn Needham Memorial Prize for most outstanding student in their final year of the Bachelor of Dental Science Course
Winner of the 1996 Australian Society of Orthodontists (WA Branch) Prize for Most Outstanding Student in Orthodontics in the final year of the BDSc
On graduation she joined the Royal Australian Navy as a Navy Dentist, completing her officer training at HMAS Creswell. She worked as a general dentist for four years in several Defence locations, including one year as the Fleet Dental Officer which included a 5 month deployment on HMAS Tobruk in South East Asia. During her naval service, Dr Ward also completed a Graduate Diploma in Public Health at the University of Wollongong.
With a solid foundation in general dentistry, Dr Ward sought to capitalise on her previous achievements of winning the prize for Most Outstanding Student in Orthodontics in her Dental degree and applied to undertake the Master of Dental Science (Orthodontics) at the University of Queensland.
Following the successful completion of the course (which included a research thesis into jaw joint morphology, teaching of undergraduate students, and presentations to professional groups) Dr Ward and her husband moved to Darwin and established Bite Right Orthodontics.
Dr Ward and her new family (with the addition of her son) returned to Brisbane at the end of 2003 and established the practice at Browns Plains and Beaudesert. In 2006, the Kenmore practice was opened at Marshall Lane followed by the Jimboomba practice in 2016.
In addition to her private practice, Dr Ward was the Visiting Orthodontic Specialist at the Ipswich Dental Clinic from 2005 – 2012. She is a Registered Specialist with the Australian Health Practioners Regulation Agency, Member of the Australian Society of Orthodontists and Certified Member of the Australian Orthodontic Board. She holds a Blue Card and Senior First Aid qualifications.